CSIN Learning Event #41, "Developing Human Well-being Indicators for the Hood Canal" took place on December 2, 2013, with a presentation by Dr. Kelly Biedenweg, Lead Social Scientist at the Puget Sound Institute. She presented on an initiative to develop a process for selecting human well-being indicators relevant to natural resource management in the Hood Canal in the state of Washington.


CSIN Learning Event #40 (WMV - 78 MB) took place on April 3, with presentations from Dr. Margot Parkes (Network for Ecosystem Sustainability and Health), Mike Puddister (Credit Valley Conservation), Tatiana Koveshnikova (Credit Valley Conservation), Dr. Lorna Medd (Cowichan Watershed Board) and Steve Litke (Fraser Basin Council). The presenters offered perspectives on the challenges of measuring indicators for human health and well-being in watershed management programs.


CSIN Learning Event webinar #39 (WMV - 43 MB) took place on March 7 with presenter Alex de Sherbinin explaining target setting in environmental indicators. Watch the webinar recording now!


CSIN Learning Event webinar #38 (WMV - 48 MB) took place on Feb 21 with presenter Lyle Wray discussing the Community Results Toolkit - From Community Indicators to Results. Watch the webinar recording now!



Give us your feedback, we would love to hear what you think!



More events...
Welcome to CSIN
CSIN's thematic focus over its next three-year operational period (2012–14) is "Measuring the well-being of places, from the ground up." Well-being and sustainability indicators for cities, municipalities, regions and watersheds are a growing trend. These indicators provide ideal connecting points for individuals, businesses, civil society organizations and governments at all levels to better understand and shape their actions for a sustainable future . . . from the ground up.
CSIN aims to advance best practices in measurement and sustainability indicator systems in Canada and beyond in an effort to achieve progress toward global sustainable development. Using CSIN tools and resources, sustainability indicator and reporting practitioners exchange ideas, data and methods, and circulate announcements. Based on a "community of practice" approach, new and experienced practitioners share lessons learned and discuss relevant issues of theoretical, strategic, technical and practical importance.
CSIN membership fees are annual and available at three levels—general, student and organization. Network Membership Fees (PDF - 405 KB).
Benefits of CSIN:
Updated and accessible information on sustainability indicator practice in Canada at national, provincial, regional and local levels.

Regular contact with indicator practitioners across Canada.

Access to current thinking and practice in sustainability indicator development in Canada, with potential for connections and collaborations during monthly learning events.

Opportunities for capacity building, problem solving and collaboration.

Membership in an organization that backs the strategic development and use of sustainability indicators in Canada.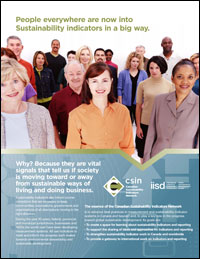 Learn more about the benefits of membership with CSIN's Recruitment Brochure (PDF - 1.5 MB).
How CSIN members benefit from the Network
We have asked our CSIN members to provide feedback on how they benefit from the Network. The sample of responses below illustrates the diversity within our membership, while simultaneously highlighting our common interest: learning from each other.
Milena Shintai, Shintai Zweck
"As a curator of contemporary art and as a concerned citizen, I am deeply committed to helping inspire social change. More specifically, I am working to bridge the gap between cultural and sociopolitical pursuits because I feel it is essential to circulating knowledge about how we might secure universal justice and well-being. CSIN provides me with valuable contextualized data to incorporate into my research, thinking and professional output. It also helps to provide me with a network of equally motivated peers and potential partners."

Steve Like, Fraser Basin Council
"The CSIN Learning Events provide an opportunity to bring together people with common interests, and different perspectives, and who are facing common challenges and opportunities. The Learning Events help to build our individual and collective knowledge through presentations and dialogue that typically include good practices, technical advice, constructive feedback and emerging opportunities. I have used the Learning Events to share my work, solicit feedback and advice, and also to learn from the work of others."

Fiona Wright, Blekinge Tekniska Högskola
"I quite like receiving the CSIN listserve emails. I am a project assistant at the Blekinge Institute of Technology in Sweden, working with Strategic Sustainable Development research projects and the Masters course in Strategic Leadership towards Sustainability. I find that every email has something interesting, and especially because most of the postings relate to peer-reviewed journal articles. I will eventually return home to Canada to work in strategic sustainable development, and it is good to keep on top of the available indicators because these are some of the tools I find many people and organizations that I work with are asking for."
For more information on becoming a member visit Join CSIN or contact csin@iisd.ca.